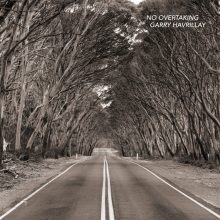 Garry's new instrumental album began during a long Covid-19 lockdown, and our need to escape to the comfort of music that might help us travel in our imaginations.  It's a wide-ranging and conceptually cinematic journey.
Release date: 8 April, 2021
The feature work is the six part 'Travelling Without Moving', with influences ranging from jazz noir to reggae, gamelan, Indian drone and African percussion, and the album concludes in a very serene orchestral mood with 'The Glass Boat', an indication of the likely direction for Garry's next major solo work.
'No Overtaking' is available now via Bandcamp; in Stereo for download (multiple formats), and in immersive 5.1 Surround Sound as a multichannel FLAC file1 bundle or BluRay2 disc.
Absolutely recommended for fans of Garry Havrillay, collectors of surround sound music, fans of instrumental pieces, and eclectic music listeners. I consider this a demonstration worthy 5.1 mix and a perfect way to take a trip without leaving ones listening room

— Wesley Derbyshire, HiRes Edition - 25 April 2021. Read the full review.