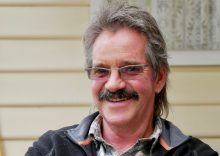 Lawrie Havrillay's previous life as a mechanic in Melbourne was left behind with his move to Gippsland in 1979. He enrolled in the Visual Arts Diploma at Gippsland Institute of Advance Education (now Monash University, Churchill) and studied sculpture, making use of the excellent studio facilities for wood, metal and fibre glass. He supplemented his income with small carpentry jobs and commissions, selling carved woodwork at local markets and art shows. The purchase of a lathe in 1983 allowed him to include turning in functional and sculptural works made of elm, blackwood, Huon pine and other timbers.
His small woodworking studio was expanded when he and wife Jenny Peterson purchased a block of land and built a larger space on the edge of Boolarra, a small township in Gippsland in south-eastern Victoria. Gradually a house was established which includes Jenny's printmaking studio, with Park Road Studios used to name the one acre property since 1998.
The renovation of their relocated house increased Lawrie's range of experience, and he has since been employed as a carpenter, tiler, plasterer and a manufacturer of wooden staircases. More recently working as a sole trader he has specialised in the construction and installation of staircases and handrails. He now does the small building maintenance jobs and furniture repairs for local people that builders prefer to avoid. One of his larger tasks has been designing and constructing horse jumps.
Lawrie continues to make sculptures, often with a fishing theme - another ongoing interest, and says he will always be creative with his hands.