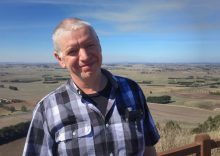 Garry Havrillay lives in Melbourne, Australia.
Until the end of 2014 he worked in radio for the Australian Broadcasting Corporation, and his 30 years of professional experience as a sound engineer includes classical music recording (concert and studio), audio art, radio drama, documentary features, digital post-production, music editing and mastering, as well as on-air presentation, website, database and systems development.
Concurrently since late 1980 he has been an active volunteer with Melbourne's highly regarded specialist music station PBS 106.7FM, regularly presenting programs until December 1998.  The last of these was Continental Drift  which ran for almost 10 years.  He still presents fill-in programs on PBS every month or so, and continues to volunteer behind the scenes.
Garry says that one of the most rewarding projects for PBS-FM was during 2005/6 working on the major radio documentary series Mick Geyer: Music Guru in tribute to this influential Melbourne identity and former colleague.
Garry is also an occasional musician, producer and composer.  His last major release was a collaboration with Chris Basile under the name Open Circle Party.  Follow the music links (left column) to learn more about, and listen to other examples of his work.
In recent years, Garry has taken up website development and videography, creating short features with original music and 5.1 surround sound design.  This includes collaborations with artist and animator Annemarie Szeleczky on several of her videos, as both composer and editor.  Their latest collaboration, Atrophy  was screened in September 2017 at her exhibition of paintings, drawings, collages & prints called Toxic Beauty.
In late 2017, another collaboration emerged as editor and sound designer for Chris Basile's documentary feature on the life and work of the renowned Indonesian artist Kartika Affandi called Kartika: 9 Ways of Seeing.
His favourite activity is downhill skiing, and Japan and Canada are his most frequented holiday destinations.